Amanda Segel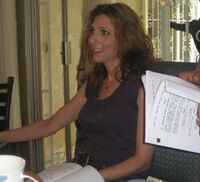 | | |
| --- | --- |
| Position(s) | Writer, Supervising Producer |
Amanda Segel is an American writer, producer, actor, and does below the line work in film and TV. She has worked on such productions as Without a Trace, The Good Wife, Nikita , and Big Momma's House. She attended University of Michigan.
Career (In Her Own Words)
I wrote dozens of specs while I worked as an assistant to a very successful film producer, and eventually got repped at Endeavor. Getting representation is always a hurdle, so I knew my career took a big step forward. Unfortunately, that didn't automatically mean work as a TV writer, so I took a job as the assistant to the creator/showrunner of "Without A Trace," Hank Steinberg in the hopes that being at the right place at the right time (with the right spec sample) would pay off.
I worked for Hank for two years. He read my stuff in year one and let me pitch ideas for episodes. Year two, I got hired to write an episode of the show, which was a great opportunity for a number of reasons. Hank was very interested in promoting from within. The script coordinator and I were promoted to staff writer the same year.
She was a supervising producer from the beginning until "Coup de Grâce".
Writer
Season 1
External links