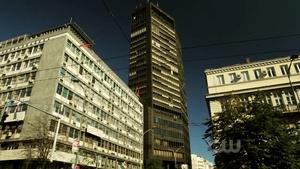 Gogol is a Russian intelligence agency that acts as the shadow arm of Zetrov under the leadership of Ari Tasarov. Nikita describes them as the Russian Division. It did once rival Division, that is until Division's shutdown. and has attempted to have Nikita work for them without success.
They also served as the intelligence arm for Zetrov's owner Sergei Semak. After Ari Tasarov was fired, the Gogol is lead under the leadership of Ilya Levkin who use Gogol as an intelligence for Zetrov and not like Sergei Semak who use Gogol likes a criminal organization.
Somes members of the Gogol leave the organization and join the private army of Amanda like Anatoly because the Gogol doesn't recruit and use mercenaries anymore.
Members
Leader
Ari Tasarov † (Unknown-2012)
Unknown New Leader (2012-...)
Known Members
Kelly †
Owen Elliot (associate and rogue)
Cassandra (rogue)
Oleg †
Yuri Levrov † (former Alex's friend)
Anatoly Oslov † (later Amanda's loyalist)
Timour † (head of security in Gogol's main building)
Trivia
Gogol is possibly mentioned as early as Pilot when Birkhoff inquires whether Nikita joined the "other side"
The actual building is located in Belgrade, Serbia and is named Beogradjanka.