This article is about a Division's mission. You may be looking for Pale Fire, an episode.
Operation: Pale Fire was a Division mission. The endgame was meant to eliminate the entire Udinov family. The operation took place in 2005.
Target
The Udinov Family, the controllers of Zetrov.
Mission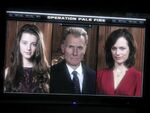 Eliminate the Udinov family:
Aftermath
As Ryan Fletcher once pointed out, this mission proved to be cataclysmic.
It was the final straw that made Nikita go rogue and she would eventually pick up allies along the way.
This mission in it's wake lead to the downfalls of Percy, Amanda, Ari, Semak, Division, Oversight, and eventually The Shop.
The incidents that Division, Oversight, The Shop, and Gogol were all involved in would all eventually come to light and would become public knowledge.
Gallery
Divison Team
Mission