Season Four is the final season of Nikita. It aired from November 22, 2013 to December 27, 2013 and contained six episodes from "Wanted" to "Canceled".
Cast
Main Cast
Recurring Cast
Guest Cast
Season Summary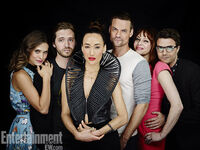 Framed for assassinating the President at the end of last season, Nikita finds herself at the beginning of season four alone and on the run, hunted as the most wanted woman in the world. But when she follows up a lead that could clear her name, Nikita unexpectedly finds herself reunited with her old team. Forced to work together again, Nikita and her allies have to get past their emotional wounds in order to take down their nemesis, Amanda. In the process, they discover that the plot to frame Nikita is actually part of a much larger conspiracy, one that could lead to global catastrophe.
Episode List
Image
Title
Writer(s)
Director(s)
Airdate
#
Wanted
Writer: Kristen Reidel
Director: Eagle Egilsson
November 22, 2013.
#4x01
Nikita is still on the run after she was framed for the assassination of the President of the United States. Dale, a reporter (guest star Todd Grinnell) from the news channel ENN, starts questioning what really happened that night. Nikita sees this as an opportunity to clear her name so she re-enters the country to talk to Dale but walks right into a trap set by Amanda. The team is alerted and Michael sets out to find Nikita before Amanda does. While Birkhoff and Ryan help Michael from their new mobile office, a high-tech aircraft, Alex stakes out a human-trafficking ring and learns The Shop is involved. Things go south and Alex is surprised when Owen/Sam shows up at the scene.




Dead or Alive
Writer: Albert Kim
Director: John Badham
November 29, 2013.
#4x02
Nikita reunites with Michael , Birkhoff and Ryan aboard the team's aircraft command center. Michael refuses to discuss their relationship but tells Nikita she should stay with the group and let them help her clear her name. Ryan realizes Amanda is making doubles of VIPs with The Shop's help. Nikita discovers that one of the doubles is the Director of the FBI (guest star Alex Carter), but doesn't know how to kill him without exposing herself. Meanwhile, Alex holds Sam at gunpoint and demands he return what he stole from her, but when a gang of thugs attacks them they are forced to work together to escape.




Set-Up
Writer: Carlos Coto
Director: Marc David Alpert
December 6, 2013.
#4x03
Tensions continue to escalate between the United States and Pakistan after Amanda plants evidence that Pakistan hired Nikita to kill the President. Ryan becomes suspicious of Birkhoff's increasingly odd behavior and tells Nikita and Michael that he thinks Amanda may have kidnapped Birkhoff and planted a double on the plane. Meanwhile, the CIA captures Alex and questions her about her involvement with Nikita.




Pay-Off
Writer: Terry Matalas & Travis Fickett
Director: Dwight Little
December 13, 2013.
#4x04
Mr. Jones benches Amanda and takes back the reigns of the operation. He calls Nikita and offers her and the entire team complete freedom by wiping away their identities and faking their deaths if they walk away from their mission. The team lands the plane on a secluded Pakistan air strip, but when the local drug czar and his men storm the plane and demand ten million dollars, so Nikita calls Alex for the money. After Alex pulls diamonds out of a safe deposit box to pay the insurgents, Sam sees an opportunity to recoup his losses and contemplates stealing the diamonds. Meanwhile, Michael comes face-to-face with an old adversary, Ramon, who hits Michael with some hard truths.




Bubble
Writer: Oliver Grigsby
Director: Nick Copus
December 20, 2013.
#4x05
Just as Nikita is finally starting to see an end to the long war with The Shop, Ryan confesses a secret that could unravel it all. Meanwhile, Michael tries to get Nikita to accept their new circumstances as he contemplates what comes next for the two of them. Realizing Sam was planning to steal her diamonds, Alex gives him a suitcase of fake diamonds to deliver to her contact in France. Alex is surprised when he upholds his end of the bargain and doesn't take off with the jewels. However, things get messy when Sam is jumped by the loan shark he owes money to, and Alex must step in to save him.




Canceled
Writer: Albert Kim & Carlos Coto
Director: Eagle Egilsson
December 27, 2013.
#4x06
Frustrated that MDK is still active, Nikita decides to end it her way. Leaving Michael and the team behind, Nikita takes Alex on the road to exact revenge. Nikita and Alex capture Mr. Jones and force him to reveal the names of the rest of the members of MDK. Armed with the information, Nikita goes down a dark path that may ultimately cost her her soul. Michael tracks her down and must get her to surrender before the military opens fire and kills her. However, Nikita isn't one to give up on a fight, leading her to make a shocking decision.



Videos
Trivia
This is the first season during which Craig Silverstein, a creator of the series, did not wrote a single script.
See Also
Notes
Community content is available under
CC-BY-SA
unless otherwise noted.