Season Three aired from October 19, 2012 to May 17, 2013 and contained twenty-two episodes from 3.0 to Til Death Do Us Part.
Cast
Main Cast
Recurring Cast
Guest Cast
Season Summary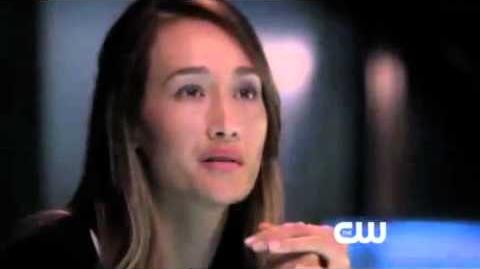 "The New Division"
At the end of season two , Percy was finally deposed (and bloodily dispatched) by Nikita. CIA analyst Ryan Fletcher had been tasked with running Division in his place - an assignment which he agreed to only if Nikita could work with him in rehabilitating the agency's operatives and tracking down the rogue assassins still on the loose.
Episode List
Image
Title
Writer(s)
Director(s)
Airdate
#
3.0
Writer: Craig Silverstein
Director: Eagle Egilsson
October 19, 2012
#3x01
Ryan takes charge of Division with Nikita by his side. Their first mission under the new regime is to bring in "The Dirty Thirty," the rogue agents who failed to respond to the Division recall after Percy was killed. Unfortunately, their first mission doesn't go as planned and Michael is arrested, forcing Nikita to change gears and hatch an escape plan for him. Alex reprises her alter ego, the spoiled Russian princess Alexandra Udinov, in a very unique way as part of the plan to spring Michael. Meanwhile, Birkhoff struggles to maintain a working relationship with Sonya (guest star Lyndie Greenwood), despite his growing attraction to her.
Innocence
Writer: Mary Trahan
Director: John Badham
October 26, 2012
#3x02
Nikita, Michael and team extract a young girl named Liza (guest star Annalise Basso), who is being held captive by a rogue Division agent, Wade (guest star Chance Kelly). Wade has brainwashed Liza and trained her to be a Division agent to help him on his own personal mission. Nikita tries desperately to break through to Liza but, in a moment of chaos, the girl escapes Division. The team races to find her before she can complete her mission to unleash a deadly chemical into the UN building during a special event. Meanwhile, Liza's abduction brings up painful old memories for Alex.
True Believer
Writer: Carlos Coto
Director: Danny Cannon
November 2, 2012
#3x03
When Ryan tells Nikita an undercover agent has been arrested and they need to extract her from prison, Nikita questions why Division is continuing to run Percy's old missions. Nikita, Michael and Sean attempt to stop a terrorist attack but are one man down after Alex is shot. Meanwhile, Birkhoff and Sonia continue to bicker.
Consequences
Writer: Kristen Reidel
Director: Nick Copus
November 9, 2012
#3x04
Amanda sends a rogue Division agent, Anne (guest star Sarah Allen) to spring Owen from a Russian prison, but Owen manages to escape her clutches and sends a message to Nikita that he's free. When Nikita tracks him down, Owen is shocked to learn that Nikita is with Division now but returns to base with her. Michael and Ryan aren't sure they can trust Owen but Nikita stands by her friend.
The Sword's Edge
Writer: Albert Kim
Director: Kenneth Fink
November 30, 201
#3x05
Division discovers one of their rogue agents, Markov (guest star Jonathan Goad), who has been undercover for six years, has been elected President of Uzbekistan and is planning to kill the President of the United States (guest star Michelle Nolden). Ryan confesses to the team that Division is on thin ice with the President and she has threatened to wipe them out if the public finds out about the secret agency and rogue agents. Nikita and Michael are furious that Ryan kept this a secret from them and must figure out how to save the President's life without alerting her of the danger. Meanwhile, after Alex and Owen are caught in an explosion, they investigate and believe an insider set it up.
Sideswipe
Writer: Terry Matalas & Travis Fickett
Director: Joshua Butler
December 7, 2012
#3x06
Nikita and Michael capture Cyrus (guest star Isaiah Mustafa), an arms dealer, who is purchasing a weapon-jamming device for Ari . Nikita convinces Ryan to let them use Cyrus as bait to capture Amanda but Cyrus manages to escape the trap. However, when Amanda double crosses Cyrus, his only hope for survival is Nikita. Meanwhile, Birkhoff is hot on the trail of Amanda's (Melinda Clarke) mole and Alex starts to unravel.




Intersection
Writer: Michael Brandon Guercio
Director: Dwight Little
January 18, 2013
#3x07
Birkhoff tells Nikita that Sonya is Amanda's mole and not only has Amanda reactivated Sonya's kill chip but she also placed a second mole in Division to keep an eye on her. Nikita, Michael and Ryan devise a plan to use Sonya to ferret out Amanda's hiding place and Birkhoff sets a trap for the second mole. Meanwhile, Michael confronts Alex about her drug use and she begs him not to tell Nikita.




Aftermath
Writer: Brad Turner
Director: Carlos Coto
January 25, 2013
#3x08
Nikita (Maggie Q) and Owen (Devon Sawa) face off against a rogue "cleaner" named Liam (guest star Pedro Pascal), while Michael (Shane West) takes a new position at Division. Michael and Nikita's relationship becomes strained as he watches her work with Owen. Lyndsy Fonseca, Aaron Stanford and Noah Bean also star.
Survival Instincts
Writer: Albert Kim
Director: John Showalter
February 1, 2013
#3x09
Ray (guest star Matt Bushell), a rogue agent, kidnaps his girlfriend Kate (guest star Anna Hopkins), so Ryan (Noah Bean) dispatches the team to rescue her. Nikita (Maggie Q) is confused when Michael (Shane West) sends Owen into the field with her instead of going himself. Meanwhile, Sean (Dillon Casey) makes a decision about Alex (Lyndsy Fonseca).
Brave New World
Writer: Kristen Reidel
Director: Marc David Alpert
February 8, 2013
#3x10
Michael (Shane West) gives up his role as a field agent and resumes his role inside Division running Operations. After learning key information from Birkhoff (Aaron Stanford), Nikita (Maggie Q) preps a secret mission that takes her into dangerous territory. When Michael and Alex (Lyndsy Fonseca) and Ryan (Noah Bean) find out, they follow her into Kosovo but the outcome has far-reaching consequences for Division.
Black Badge
Writer: Mary Trahan
Director: David Grossman
February 22, 2013
#3x11
A CIA agent named Naomi (guest star Amanda Schull) comes across a file detailing Madeline Pierce's involvement with Division and turns it over to the director of the CIA, Morgan Kendrick (guest star Brian Howe). When Kendrick is killed shortly thereafter, Amanda (Melinda Clarke) frames Sean (Dillon Casey) for the assassination and the CIA takes him into custody. Nikita (Maggie Q) promises Alex (Lyndsy Fonseca) they will free Sean and comes up with a plan that could either save him or cost him his life.
With Fire
Writer: Carlos Coto
Director: Eagle Egilsson
March 1, 2013
#3x12
After Birkhoff (Aaron Stanford ) gets a tip from shadowbot that Ari (guest star Peter Outerbridge ) is in NY, Nikita (Maggie Q ) and Owen (Devon Sawa ) swoop in to pick him up before the FBI does. However, Ari reveals he planned everything for a chance to talk to Nikita. He tells her that Amanda (Melinda Clarke) has gone to far and is working with a terrorist who plans to attack on American soil. Ari wants fifty million dollars for the information that could lead to the terrorrist's (Peter Marek) capture. Nikita and Michael are when Ryan (Noah Bean) considers paying the bribe. Meanwhile, Sean (Dillon Casey) is jealous of Alex (Lyndsy Fonseca) and Owen's relationship.
Reunion
Writer: Terry Matalas & Travis Fickett
Director: Jon Cassar
March 8, 2013
#3x13
In order to gain control of the black box, Amanda makes plans to kidnap Ari's son Stefan (guest star Dylan Minnette) to use him as leverage. Still in Division's protective custody, Ari begs Nikita for help. However, Stefan's bodyguard Krieg (guest star Andrew Divoff) manages to capture both Nikita and Amanda and the two must work together to escape. Owen is furious with Michael after Michael assigns Alex to be Nikita's back-up instead of him.




The Life We've Chosen
Writer: Albert Kim
Director: Brad Turner
March 15, 2013
#3x14
Amanda holds Alex hostage and tells Nikita she will release Alex in exchange for Ari. Michael assigns Nikita and Sean to handle the exchange of prisoners, but Ryan adds Owen to the team at the last minute, which makes Michael suspicious. While in captivity, Alex befriends a fellow prisoner named Larissa (guest star Olga Fonda) and vows to break them both out of the jail, which ultimately conflicts with Nikita's plan, forcing Alex to choose between Nikita and her promise to Larissa.




Inevitability
Writer: Kristen Reidel
Director: Mark Baldwin
March 29, 2013
#3x15
When Nikita decides Division should take on a government mission to eliminate the President of Chad (guest star Jonathan Adams) while he's in Paris, Alex takes a stand and refuses to participate. Upset that Nikita is keeping secrets from everyone, much like Percy did, Alex recruits Birkhoff to dig up secrets on Danforth (guest star Richard T. Jones) to use as leverage in case things get messy with the government. Alex and Birkhoff are shocked when they come across a secret so big it could blow up Division — literally.




Tipping Point
Writer: Oliver Grigsby
Director: Dwight Little
April 5, 2013
#3x16
Nikita and Michael learn of a new prosthetic hand that could have Michael back to his old self, but it comes at a steep price. Meanwhile, Alex and Sean are tasked with investigating who, inside Division, is behind a mutiny that ends in bloodshed.




Masks
Writer: Kamran Pasha
Director: Chris Peppe
April 12, 2013
#3x17
Alex confesses her desire to leave Division to Birkhoff , while Amanda begins providing Owen with something he was never able to find - memories of his real past. Despite Nikita's attempts to help, Owen begins to confront the events of his past.




Broken Home
Writer: Terry Matalas & Travis Fickett
Director: John Badham
April 19, 2013
#3x18
Strapped down and drugged, Nikita is subjected to Amanda's horrific mental conditioning process, sending her down a terrible trip through memory lane. In the process, Nikita discovers Amanda's deepest, most guarded secret ever. Now revealed as leader of the uprising, Alex struggles to save everyone as events violently escalate. With Michael locked away by Division conspirators, Birkhoff and Sean must step up to save the women they love. Meanwhile, Owen's newfound memories drive him to disturbing actions during Division's lockdown.




Self-Destruct
Writer: Kristen Reidel
Director: Nick Copus
April 26, 2013
#3x19
Shattered by Amanda's programming, her inability to save everyone, and her ultimate responsibility for the tragic events at Division, Alex reverts to old ways and violently strikes out. With most of their compatriots dead, broken, or scattered to the wind, Nikita and Michael together must pick through the ashes of Division to see who and what can be salvaged – and quickly, before the President realizes the sinking depth of the damage. Memories of Division's glory days haunt them. Birkhoff struggles with his own personal losses.




High-Value Target
Writer: Michael Brandon Guercio
Director: Dan Sackheim
May 3, 2013
#3x20
Seized from the wreckage of Division, the black box falls into the hands of a mutinous agent guided by Amanda. Select leaks to sweeten the box's sale immediately put what's left of the team in peril from potential international buyers and the President. With no support staff, few leads, and clock ticking, arms dealer/reformed rogue Cyrus (guest star Isaiah Mustafa) returns to do right. With his help, Nikita, Michael and Alex stage a daring op at the tightly-secured G-20 economic summit to regain control of the box and everyone's future.




Invisible Hand
Writer: Carlos Coto
Director: Dwight Little
May 10, 2013
#3x21
Before becoming engaged, Nikita aid, "There's always gonna be another mission." Now, after barely surviving harrowing recent events, Michael questions his fiance's commitment to a life beyond Division's web of deceit, double-crosses and murder - and he's not the only one with doubts. Still, the remaining threat of Amanda looms large over the team, particularly since she's now allied herself with mysterious new partners that furnish her with a terrifying new weapon. Meanwhile, Alex considers an intriguing offer from the Nobel Prize winner (guest star Raven Dauda) she's defending.




Til Death Do Us Part
Writer: Albert Kim
Director: Eagle Egilsson
May 17, 2013
#3x22
Amanda forces Nikita into a life-threatening situation where she has to choose between saving Michael or saving herself. The team races to find a way to stop Amanda, but with a diminished Division, they might finally be out-gunned.



See Also
Community content is available under
CC-BY-SA
unless otherwise noted.